December 23rd, 2012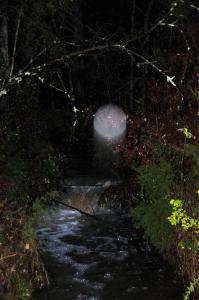 This is a 2013 WEEKLY PLANNER that's just been published and made available for public sale. It's packed with nearly 70 thought-provoking paranormal photos. All images were captured in the northern Virginia area by DOUG KEAN SHOTZ in 2012. Explore the dimensions of these energies, week by week, that are usually unseen by the human eye. Their appearance can be both entrancing and challenging to your mind.

It can be purchased in hardcover or softcover paper editions. PDF downloads that can be used on your phone or computer plus a version that's made for your IPAD, are also available to you. These planners have some of the photos you've seen here, and many more!
November 3rd, 2012
I've been a real slacker about keeping this blog current. Honestly, I'm still not sure what info to post here. But I've just created a Facebook "fan page" for my orbs and energies images. Others are welcome to submit there too. You may want to visit, look, "like" the page, share it, and return periodically. It'll be updated more often than this gallery.

Enjoy the images, wherever you discover them!
May 16th, 2012

For the record, I'm not about coercing people to agree on my view of orbs, spirits and aliens and such. I'm about providing unique, attractive images meant to provoke appreciation and awe regarding what nature has provided us. As we know, seeking agreement on anything causes more strife and unhappiness for us than just about anything else humans do. So just enjoy the endless stream of shotz that I'll be posting. Or look the other way, if you'd prefer.
May 5th, 2012
The sighting and capturing of orbs in images may have much deeper implications than we imagine at first glance. Give some thought to this detailed opinion of a widely respected authority.

http://youtu.be/7FsLqFIkYI0

https://www-gm-opensocial.googleusercontent.com/gadgets/proxy/refresh=3600&container=gm&gadget=http%3A%2F%2Fwww.gstatic.com%2Fig%2Fmodules%2Fgm%2Fyoutube%2Fcard-youtube.xml/http://i.ytimg.com/vi/7FsLqFIkYI0/default.jpg